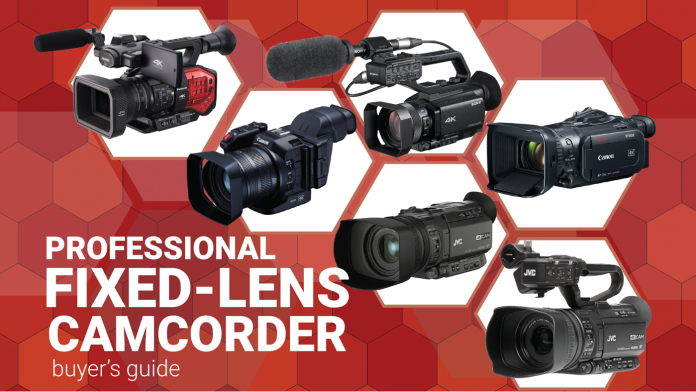 There are many camcorders on the market, and they all share a lot of similarities. However, if you factor in what you want your footage to look like and how you'll work with it and use it for your productions, the decision making process gets much easier.
What do you want your audience to see?
This will dictate the gear you'll want to shoot with. If you want your audience to see striking images on a big film festival screen, you'll want a cinema-style camcorder or one with great color. If you need to stream your video live, there are cameras built for just that. If you want a camcorder that can give you a cinematic look but is still good for run-and-gun shooting, there are also models that are very versatile.
Lenses: The Difference in Glass
For years, cinematographers have used certain lenses to reproduce color and contrast, and to create the specific look of a TV show, commercial or film. Lens makers have caught on; they strive to have the look of the lenses they produce remain consistent from cinema lenses to still camera lenses to camcorder lenses. If you like the look or are trying to match the look of footage shot with lenses by makers like Canon, Zeiss or Leica, then finding a camcorder with their glass is a good start.
Why You Should Care About Chroma
Chroma is the color information in a video file. Chroma sub-sampling is used by many codecs to decrease file size by eliminating color data. In codecs that use 4:4:4 color, all the color of an image is retained. With 4:2:2 chroma sub-sampling (4:2:2 color), half of your video's color information is discarded. In most cases, viewers can't see the difference between 4:2:2 and 4:4:4 color; however, 4:2:0 color only retains around an eighth of the original color information of an image. The loss of color data from 4:2:0 chroma sub-sampling almost always results in a noticeable loss in image quality when compared to 4:2:2 or 4:4:4 color.
It's not just overall image quality that is affected by chroma sub-sampling. If you need to do visual effects work like chroma keys or a lot of color correction, you'll want to stick to shooting in 4:4:4 or 4:2:2 color. The files may be larger, but it can save you a lot of time in post. If you're shooting projects like a company's product where color accuracy is critical, you'll also want to avoid 4:2:0 color, as it averages color values between pixels, often causing the original color that your camera image sensor sees to be lost.
It has to look better than an iPhone.
The last thing you want is to be on a shoot and have someone next to you take better looking videos with their phone. In September of 2015, Apple released the iPhone 6S, which was capable of recording 4K video with its 1/3 inch CMOS image sensor built by Sony. Sony has continued to supply companies like Apple and Samsung with 1/3 inch and larger sensors for smartphones. These sensors are around the same size and pixel count as many of those found in pro camcorders. So how do you ensure that your camera can consistently record better looking videos than a smartphone? You can increase image quality by using larger sensors, better optics and higher quality recording.
Smaller image sensors tend to have more noise in the images they produce. A 1-inch or a Four Thirds (4/3) inch sensor will typically produce an image with less noise than a much smaller 1/3-inch sensor, although image processing comes into play here as well. Smartphone cameras have image processors that reduce image noise, but this can also adversely affect the color and contrast of the image. The more powerful image processors of higher-end cameras provide more accurate and consistent image quality.
Camcorders do have phones beat hands down in the ability to zoom optically. When you zoom in digitally, like you do with your phone, you're only looking at part of what the sensor sees, so your image can lose detail. With an optical zoom, you're still looking at the whole image sensor, so your detail remains more stable.
Camcorders have phones beat hands down in the ability to zoom optically. With and optical zoom, your detail remains more stable.
To save on storage space, many codecs use compression that tosses out data from your video files. This process often degrades image quality. Generally, the higher the bitrate a codec uses, the less effect it will have on your images. Some smartphones can record 4K at bitrates of approximately 50 megabits per second (Mbps), which may result in good enough image quality for some applications but not for all. Smartphones don't tend to allow you to adjusting bitrate. In contrast, professional camcorders give you an option for bitrates and often file formats as well.
As resolution increases, codecs also become more efficient. It's not uncommon to see less compression issues in a UHD (4K) video recorded at 150Mbps than a HD video recorded at 50Mbps; even though 3840 x 2160 is four times as many pixels as 1920 x 1080, 150Mbps is only three times the bitrate as 50Mbps.
The chroma sub-sampling a codec uses also greatly affects the outcome of a recorded clip's image quality. Smartphones and most camcorders use 4:2:0 color for 4K and HD; however, many pro camcorders allow you to record HD in 4:2:2, giving you color accuracy and depth not possible with the camera on a phone.
Media cards are cheap. Use them!
In the dark ages, footage could only be recorded to film or tape. It was a costly endeavor. Now SD cards are cheap. Even more expensive media like CFast cards are economical compared to what they used to cost. This media can be overwritten hundreds or thousands of times before wearing out. This gives you the ability for lots of practicing and test shooting with your camera. In the end, the best way to ensure image quality in a camera system, is with a skilled and experienced hand operating it.
What the Market has to Offer
These are examples of some professional camcorders on the market now and what they are well suited for. Please note that manufacturer prices are listed, but you can usually find a retailer who will sell one to you for a bit less.
The Web Shooter: JVC GY-HM170, $1,725
If you're looking for a low-cost, pro camcorder for shooting online content, the JVC GY-HM170 may be just the thing for you. You can record video at resolutions as low as 480 x 270 at 1.2Mbps, which is great for small video clips for websites as well as conversion to animated GIFs. The HM170 lets you record UHD in 4:2:0 color at up to 150Mbps or HD in 4:2:2 color at 50Mbps if you need more flexibility in post.
The camera's dual SD card slots allow for multiple recording options. You can record to both cards in the same format so you have a back up. The HM170 can also record in HD to one card and a low resolution proxy to the other. For live events or other situations where you need maximum record time, you can set the camera to record to one card until it's full and then switch to the other without missing any of the action. Overall, the HM170 has a lot of versatility at an affordable price.
The Bitrate Beast: Canon XC15, $2,400
Most pro camcorders recording bitrates max out at 150Mbps and only offer 4:2:0 color sampling for 4K, but with the Canon XC15 you can record UHD at 305Mbps with 4:2:2 color. The camera can also record HD in 4:2:2 color at 50Mbps. HD video and 12 MegaPixel still images are recorded to SD cards in the camera, but 4K video requires the speed of CFast cards.
The XC15 looks more like a DSLR than a camcorder with its manual zoom and focus rings, although it packs many pro camcorder features like XLR inputs with phantom power, an internal ND filter, adjustable gain (0 – 42 dB) and a waveform monitor.
Many of the features of Canon's C300 Mark II have been brought over to the XC15, making it easier to match footage between the two cameras. They both share the same movie looks for adjusting color, as well as the same 305Mbps, 4:2:2 color capture at 24p in 4K. The XC15 also lets you adjust shutter in 24th of a second increments, which makes it easier to match shutter speeds when shooting in 24p.
The XC15 uses a 1-inch sensor and the same DIGIC DV 5 image processor used on many of their other cameras. The camera has a wider angle lens than most pro camcorders with the 35mm equivalent of 27.3mm (8.9mm actual) when fully wide.
A Price Point for All: Sony HXR-NX80, $3,000
The Sony HXR-NX80 is one of three new cameras from Sony. It sits in the middle of their new product line that includes the more affordable, yet fewer optioned FDR-AX700 at 1,900 dollars and the PXW-Z90 at 2,800 dollars — the broadcast version of the NX80. All three cameras shoot up to 960 frames per second in high frame rate mode, shoot 120 fps without a record limit, shoot UHD 4K and offer S-log3. What type of output you require will determine if you need the NX80 or the Z90. If you need SDI output and 5GHz Wi-Fi then choose the Z90; if you only need HDMI out, choose the X80. If you don't need XLR inputs and want the best price tag, choose the X700.
All three cameras have Fast Hybrid AF that achieves three times faster response than continuous AF. They shoot on SD cards and have two card slots, so you can shoot proxies at the same time.
The Documentarian's Companion: Canon XF400, $3,000
Brand new from Canon, the Canon XF400 4K UHD camcorder is a flexible option for those shooting interviews, events and documentaries. With a 15x optical zoom lens with the equivalent to a 25.5mm-382.5 zoom range and a compact body design, the XF400 is ready to venture into unpredictable shooting environments. A 1-inch CMOS sensor paired with a Dual DIGIC DV 6 image processor produces high-quality 4K video at up to 60 frames per second, and the Dual Pixel CMOS AF system provides reliable autofocus with tracking. Like with the Sony models above, Canon offers three very similar models in this line. Add SDI to the XF400's HDMI connectivity and you'll have the XF405 for 3,500 dollars, or trade connectivity for cost with the Vixia HF GX10 for 2,500 dollars.
The Cinema Camcorder: Panasonic DVX200, $4,195
The ability to capture DCI 4K (4096 x 2160) combined with the Leica zoom lens makes the DVX200 stand out as a cinema camera. The biggest advantage, however, is that the camera also lets you record in V-Log color just like Panasonic's Varicam, GH4 and GH5, giving the images captured greater dynamic range (12 Stops) and a more cinematic color tone.
The Panasonic DVX200 can also shoot in frame rates from 2 to 120 frames per second. For example, if you want to shoot action at 22fps and play it back, sped up to 24fps like they did for the car stunt scenes in "The Road Warrior," the DVX200 can do it. The 4/3 image sensor is larger than 16mm film; this makes getting shots for a cinematic feel with a shallow depth of field much easier than with other cameras with smaller image sensors.
In addition to shooting in DCI 4K, this Panasonic also supports UHD and HD resolutions. It has both HDMI and SDI outs as well as timecode in and out, allowing the camera to work well with many accessories and in many production setups. The DVX200 also has stereo XLR inputs with phantom power for connecting to professional microphones.
The Streaming Demon: JVC GY-HM200SP, $2,795
There are a lot of professional camcorders that offer web streaming direct from the camera, but the JVC GY-HM200SP also allows you to overlay custom graphics over your live video stream. You can save the graphics in a JPEG fromat or as a PNG to preserve opacity values, then load the graphics from an SD card. The camera has a USB port dedicated to connecting to network adapters that supports wired LAN, Wi-Fi and mobile adapters.
The HM200SP is built for sports production and has lower thirds options for game scores. JVC also offers the HM200HW which has graphics designed for use by houses of worship. On both models, the control of the graphic overlay is achieved with a JVC app from a mobile device.
Conclusion
The first step in choosing a camera is to decide how you plan to use it. Do you need a camera that is well-suited for creating YouTube videos, indie films, web streaming or a little of everything? Once you've figured out your needs, it shouldn't be too hard to find a camcorder that will work for you. And after purchasing, you'll enjoy the cost savings of not having to buy dedicated lenses for your camera, as well as not having to worry about leaving home without the lens you need.
Manufacturer List
Canon
www.canon.com
JVC
www.jvc.com
Panasonic
www.panasonic.com
Sony
www.sony.com
Odin Lindblom is an award winning filmmaker who shoots, edits, and produces commercials, corporate videos, and documentaries.