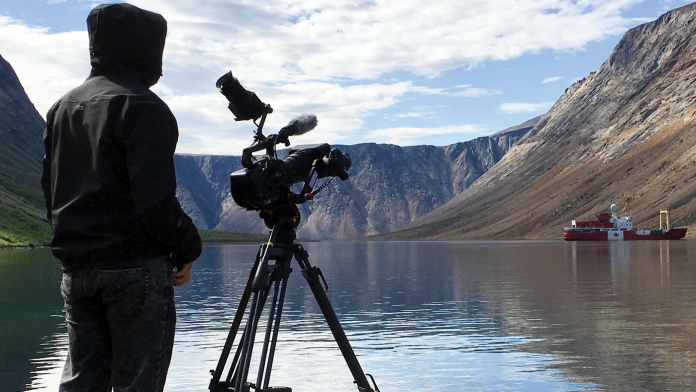 The Metro Toronto Convention Centre is buzzing with visitors eagerly crowding around product booths, where exhibitors are demonstrating the latest gear at Profusion 2017–the highly anticipated imaging technology show held here in November.
On the main stage of the Sony booth, three adventure filmmakers Peter Wall, Garry Tutte and Ryan Rizzo are presenting a show and tell. Their slideshow sparkles with stunning images of pristine natural settings, icebergs and polar bears and awe-inspiring landscapes. The filmmakers take turns at the mic walking a rapt audience through the process of how they captured the stories and images during such an epic and unprecedented expedition – Canada C3.
Wall, a former TV journalist, was hired in 2016 as lead producer to put together a communications team for the C3 signature project in celebration of Canada's 150th birthday. From June to October, Wall led a team of shooters, producers and drone technicians who filmed, edited and published content from an icebreaker sailing from Toronto, Ontario to Victoria, British Columbia via the Northwest Passage.
The 14,000 mile voyage took place over 15 legs and was christened Canada C3 for its mandate to connect Canadians from coast to coast to coast, to share the stories of coastal communities with the rest of the country and indeed with the world via Facebook, one of the expedition's sponsors.
The 14,000 mile voyage took place over 15 legs and was christened Canada C3 for its mandate to connect Canadians from coast to coast to coast…
The expedition was conceived, founded and led by Geoff Green, an internationally decorated explorer with more than a hundred polar expeditions under his belt. Green is the founder of Students On Ice, a non-profit foundation that brings young people together with educators and explorers from around the world and takes them on once-in-a-lifetime polar expeditions. The intrepid adventurer and social entrepreneur has been described by Canadian media as "the man who revolutionized polar and environmental education."
The mission for Wall and his communications team on C3 was to produce content across a variety of platforms that focused on four themes: diversity and inclusion, youth engagement, the environment and reconciliation — building new relationships with Indigenous communities.
"We were told that we had to reach 20 million Canadians," said Wall whose first task was to secure on-board internet connectivity over the course of the voyage. Technical supervisor Rizzo helped outfit the Polar Prince, a former Canadian Coast Guard icebreaker built in 1958, with state-of-the-art satellite technology.
"The geostationary satellite is right above L.A. 36,000 kilometers away," says Wall. "The further north east you go, the lower on the horizon the satellite gets. With this amazing technology, we still had a connection even in the Baffin-Davis straight, with the ship moving and rolling and the satellite elevation barely above the horizon. That allowed us to do a lot of live production."
Multi-skilled Collaborators
When Green asked Wall to select his production team, Wall knew exactly what kind of crew he wanted. Having spent 10 years reporting for CBC, Canada's public broadcaster, producing, directing, shooting and editing his own current affairs stories, Wall says he came to appreciate multi-skilled, collaborative work.
"When we were putting the team together, that's what we were looking for. We looked at everyone's reel and we had to be moved by what they shot, and that they not only had a real strong visual aesthetic, but also a powerful storytelling ability."
Wall says his co-leads Rizzo (drone media supervisor, lead tech) and Tutte (producer, director, DOP, and drone pilot) brought all that and much more to the project.
Green's concept was that for each leg a new group of participants be brought on-board including scientists, artists, youth, Indigenous Elders and educators. A programming team set out a schedule of events and activities for each leg well in advance of the ship's next port of call.
"So, we had the schedule that we would work from," says Tutte. "But we didn't necessarily know if something was going to be a great story or whether somebody was going to be a good talker or even whether they would be open to being filmed. There was a lot of on the fly storytelling and decision making."
Wall shares one example where on-the-spot judgment calls were needed to pull off a story in Powell River on the Sunshine Coast of British Columbia, the traditional territory of the Tla'amin Nation.
"We knew there was an interesting story about a Reconciliation project between Indigenous and Non-Indigenous members of the community and that they were building a dugout canoe in the traditional way," says Wall. "So we got off the ship and right away I knew it was very visual. It was just a nice story."
But when shooting started, Wall realized he only had a couple of hours to shoot the item.
"I had another shooter on the ship who was editing a different piece, so I radioed him and asked him to do second camera, and we started shooting interviews," says Wall. "The other shooter got most of the cover shots and grabbed a photographer so they could do interviews with other people while Ryan and another drone pilot were getting aerials. So within a period of three hours we shot four interviews, all the visuals that we needed, and in a day and a half we put together a four or five minute piece. And we did an Instagram story while we were there as well."
Sometimes this kind of story chasing would happen twice a day, on one location in the morning and another in the afternoon. "It was somewhere between documentary production and news," says Tutte.
Team Management
On the Sony stage Rizzo, is showing slides of crews at work pictured against magnificent coastal scenery, while Tutte and Wall explain how they managed rotating crews. For each leg, the onboard team included two stills photographers, two videographers, one drone/media tech, an editor and sometimes an extra shooter. The crew of operators were onboard from two weeks to a month or for two to four legs.
"This meant that the team was constantly changing and constantly adapting–having to learn to work with each other," says Wall.
Tutte says Wall was truly gifted putting the C3 communications team together.
"He cast the greatest characters and just put us all on a ship together almost like some crazy post-production reality show," says Tutte. "Even the fact that every 10 days everybody was changing out and we were getting new creative teams, it really ended up being this amazing meld. I've met future collaborators that I'll work with from here on because we gelled really well." The crew's output was diverse and prolific says Tutte.
The team's accomplishments are listed on one of the slides in Wall's presentation: 93 live Facebook videos; over a hundred 360 and VR videos; 120 mini-docs of one to fifteen minutes in length, including music and performance videos; over 1,000 social media posts (Facebook, Instagram, Twitter, Snapchat) including more than 6,000 photos. The team produced mini-documentaries, topical profiles and photo series for each community they visited. The crew also collaborated with museums and educational institutions across the country to facilitate Google Hangouts and virtual classrooms.
"We had a social media producer, a lead producer who was either myself or Garry, and we had journalists on most legs. Everyone was multi-skilled and pretty much anyone could use any of the cameras, although people gravitated to their favorite for their leg."
Gearing Up
To the appreciation of the Profusion audience, Tutte goes through the onboard gear for the expedition: one Sony FS7; two FS5s; one a7S II; a7R II; one PXW-X70; one RX 10; various Sony lenses and two Sony Action Cams.
Tutte's take on the action cams is that they were the better choice for the expedition over GoPros.
"They're narrower and you can squeeze them easier into your spot," says Tutte. "We'd rig them up around the ship because they're kind of a go-to for time-lapse; you can set it and forget it. At one point, we put them on a tripod on an egg timer turning slowly 360 degrees, and it's taking time lapse as it goes, and the ship is moving, so you get these dynamic, layered time-lapses."
Tutte, who was responsible for bringing Sony onboard as one of the expedition's main sponsors, explains why the Sony FS5 was his personal favorite.
"They're small, light, you've got built-in ND filters, and you can slap lenses on these things really quick," says Tutte. "But also, they had this incredible slow-mo feature. We could shoot HD at 240 frames per second. Shooting out in nature, you don't have time to set up a dolly or a slider. You set this thing to 240 and start to do a move across the ground, and it looks like these epic dolly, slider shots."
The slow-mo feature allowed shooters to significantly enhance the mood of the story says Tutte, who remembers a particularly rewarding moment, shooting on the mountainous and heavily forested Kodiak Island, just south of Alaska. "We sat there waiting for this eagle to launch out of a tree. Without the slow-mo, we would have missed the moment; it happened in a blink."
The rest of the equipment package included six different drones, including DJI Mavic Pro and Phantom 4 Pro Plus drones, along with a variety of 360-degree video cameras provided by Samsung and a live U streaming unit.
"You could plug your camera into it and stream directly to Facebook or any internet streaming service," says Tutte. "You could literally hook that on your waist and have a camera set up and be streaming live." For lights, the crew used ultra-portable and battery-operated Ice Lights that look very much like a Star Wars lightsaber.
Alaska and the Canadian North is where the northern lights are most prominent. Shooting the night sky display of dancing colors can be tricky, mainly because focusing in the dark is not what most cameras do best. But Tutte says that by shooting with the highly customizable Sony a7S II from a moving vessel, he and his shooters were able to reinvent how to capture the magic of the hemispheric phenomenon.
"The a7S II is a monster in low light," says Tutte. "We had a couple of opportunities to shoot the Northern Lights in time-lapse. You can actually expose the Northern Lights shooting video straight out of the camera, but we did some long exposure time-lapse off a moving ship, which was kind of interesting. The ship was drifting along, and we were knocking off one frame at a time on an intervolometer. The result is like this amazing 15-second, almost moving Northern Lights shot."
Tutte says one of the biggest production challenges was to keep all the elements, SD cards, cameras, lenses, filters, drones, props and batteries organized and not lose any of the precious footage.
"We ended up with a system of zip-lock bags velcroed to the wall of our communications den," says Tutte. "As the cards were shot, we would drop them into the appropriate bags— a bag for drone memory cards, and a bag for the FS5, FS7 and DSLR memory cards. You made sure to put a new memory card back into the camera, back into the drone so that they're ready to go immediately."
Every night, all the footage was backed up to two separate hard drives and each drive was RAIDed for redundancy. One drive would leave the ship at the end of each leg and be delivered to a central server to be backed up again. The other drive would be available on the ship for archival purposes and to draw from during production.
Drone 101
On leg five of the expedition, in the middle of July after heading mostly east on its first four legs to St. John's, Newfoundland, the Polar Prince started to head north. Taking the same route the Vikings took to establish an outpost in L'Anse aux Meadows on the northern-most tip of Newfoundland around the year 1000, the vessel sailed up the Labrador coast along 'Iceberg Alley'. At Battle Harbour, a restored 18th century fishing village on a small island in the Labrador Sea, the production team made a typical C3 stopover. Following expedition participants — a mix of 'ordinary Canadians', one Olympic athlete, entertainment personalities, environmental scientists and educators — the crew captured participants interacting with the locals, discovering the culture and the history, while moving through the breathtaking terrain.
"To truly appreciate the beauty of the country, you need to throw a drone up in the air and see how the mountains meet the water, see how the water meets the land, how everything interconnects," says Tutte. "Battle Harbour from the air, you'd swear you were looking at the intricacies of the human brain. To see that topography from a bird's point of view, it gives you a whole new perspective on the country. From a filmmakers' point of view, the ability to effortlessly put a camera anywhere in three-dimensional space is super-powerful."
Rizzo, who was lead drone pilot and flight supervisor for the expedition, estimates the crew logged close to 400 hours of drone flying time over the course of the voyage. A seasoned pilot and a tinkerer with drone technology (before drones came on the market in 2012), Rizzo says he encountered some variables on the expedition that he'd never run into before.
"For example, with drones we use compasses that are built into them, but when you're north of the magnetic North Pole your compasses don't work," says Rizzo. "We quickly learned how to fly manually for the majority of it."
He says risk management has to be on top of the list of considerations when launching drone flights, especially when operating in remote regions where drone photography has never been done.
"Because we were operating in air space where a drone could fly out of sight of the pilot, we had spotters who would be out watching with binoculars," says Rizzo. "In a lot of cases we were in open air space, so we could fly quite far and get some really awesome shots."
To fly a drone safely and effectively, says Rizzo, it's critical to have a checklist and develop a fixed routine, just like an airplane pilot does before takeoff.
"You have to check your propellers, you got to make sure you take your lens cap off. You got to make sure you have an SD card in, and you have to make sure you're white balanced," says Rizzo. "The last thing you want to do is put the drone in the air and then have no SD card in there and then there goes the whale."
Rizzo says the most exhilarating time he ever had piloting a drone came on the final leg of the expedition.
"Probably the most epic day of my career was coordinating with downtown Vancouver to give us the air space so we could follow the ship into harbour as we came in and around Stanley Park," says Rizzo.
The swooping aerial footage of the Polar Prince being welcomed and escorted by local vessels into the bustling downtown port on a bright sunny October morning is truly spectacular.
Live to Legacy
After their last presentation on the Sony stage, Wall, Tutte and Rizzo agreed to look back on their expedition experience over a pint at a nearby pub. The final leg of the expedition ended in Victoria only a week earlier. After stretches of 40 non-stop production days, with maybe six hours of sleep a night in cramped quarters on a 60-year-old ice breaker, they were tired but had some instructive things to say about lessons learned and the future of storytelling.
"The one thing I learned, primarily from Peter, was that you have to be prepared to produce," says Rizzo who was the first on board in June for technical set up and the last one off the ship after taking everything down and packing up the gear to return to the sponsors. "It was very much like being on a roller coaster. At any given point in time Peter was going to ask me to go live somewhere at random or, if I knew that there was a possibility we were going to have to fly a drone somewhere on short notice, everything had to be in place for that. Because that whale is not going to come back and smile for you again. Just always be prepared for what your producer wanted."
Wall says he found that doing the same thing at the same time every day was a good coping tool, so he created daily habits for himself.
"I learned that it's important to build a routine into chaos, both for yourself and for your team," says Wall. "I also learned that people do their best work when they feel a sense of ownership in the project. If people had an idea, I encouraged them as much as possible to own that idea from inception to publication. They would go out shoot it and edit it themselves, everything from the subtitles to the little logo ID in the corner of the screen."
Wall characterized the work of his comms team as ranging "from live to legacy". "There was stuff that we were turning around that was going directly live and then there was stuff that we were shooting to have for the documentary for later on, and then there was everything else in between," says Wall.
Tutte says the expedition made him better at making snap decisions about finding the story and better at multitasking.
"What you couldn't make up for in skill you can make up for in hours," Tutte explains. "By putting in that time, flying more drone flights or shooting more footage, or editing more stuff, you get more efficient. So coming out at the tail end of this thing, I feel like I'm better at all the things I did more of."
The three adventurers who did not know each other before the expedition are already talking about collaborating on future adventure-based projects, but not necessarily inside the traditional broadcasting way of doing things.
"I think the old gatekeeper model of broadcasters who decide what gets seen and who gets to see it is going out the window," says Wall. "What I think was really exciting about this project, yeah we engaged a lot of traditional media, but more importantly we also told our own stories. From the start, it was important for us to tell these stories in a timely manner, not just to collect a bunch of footage and have a documentary come out eight months down the road."
Tutte says thanks to Facebook's sponsorship, audiences can experience all aspects of the expedition online – mini docs, drone footage, photographs, maps, science projects, places, people – all archived chronologically.
"I like to think that coming out of this expedition experience, every creative team member that was involved understands their country a lot better from the ground up and on a first hand and first name basis," says Tutte. "And with any luck, as part of the legacy, they will continue on to create meaningful content about the country. Not just fluff."
Tutte says the technology used on Canada C3 is accessible to everybody right down to doing live broadcasts from a cell phone.
"What's exciting is that you can share your stories in real-time as they're unfolding. Whether you're reaching the top of Mt. Everest or you're stepping into the sunrise on Machu Pichu, or you're rounding an iceberg in Canada's Arctic; this is stuff you can share in real time, online, without a broadcaster. It's the future of storytelling."
A seasoned script-to-screen television and video producer and trainer, Peter Biesterfeld is a non-fiction storyteller specializing in documentary, current affairs, reality television and educational production.